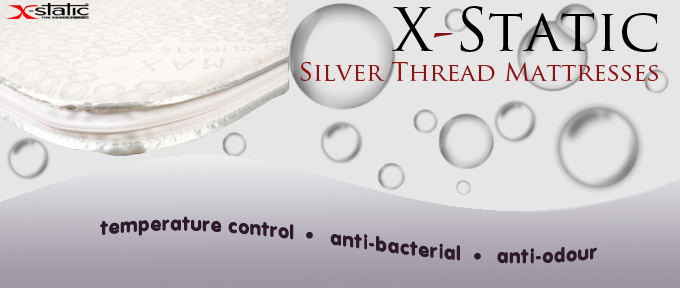 Looking for something anti-bacterial? Looking for something that will help keep your child cool when they're hot & warm when they are cold? Looking for something safe & comfortable for your baby to sleep on? Then X-static is the one for you. It really is our all singing all dancing fabric.
Xstatic is a silver thread fabric which makes the material anti-bacterial, it also contains Microclimate & Coolmax active technology. Keeping your child's temperature regulated whatever the weather.
Xstatic material has become more & more popular over recent years, originally silver foil was used as a wound dressing dating back hundreds of years and silver is often considered the first ever antibiotic.
The original term 'born with a silver spoon in your mouth' was not only to describe somebody born into a wealthy family, the silver spoons were also given due to the anti-bacterial/antimicrobial properties of the silver. Babies who were given a silver spoon at birth had a much highger chance of survival than a child who was fed with a wooden spoon.
The X-static material is now used widely through the industry, in hospitals, in clothing such as football kits due to the fabrics thermodynamic properties.
X-static being the ultimate all rounder boasts the following properties;
Antimicrobial - Destroying 99.9% of bacteria in less than one hour of exposure, the hotter & wetter the surroundings the better Xstatic works.
Antiodour - Xstatic allows for immediate binding with ammonia and denatured proteins, resulting in instant odour reduction.
Thermodynamic - Helping to keep your child cooler in the summer and warmer in the winter.
X-static is permanent and performance does not diminish over time. In fact, X-static has been tested for more than 250 washes with no reduction in antibacterial performance.
Can't see what you're looking for? Then just email us at; info@babymattressesonline.co.uk or call us on 01254 777603