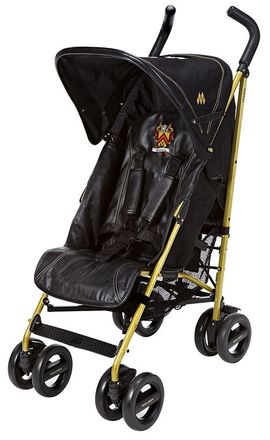 A new buggy by Maclaren that comes complete with its own number plate is now available - for the princely sum of £2,000.

The Maclaren GB type AU buggy - which boasts leather seats, gold-embroidered logos, a carbon fibre frame and even alloy wheels - is aimed at those for who £2,000 is "literally a drop in the ocean".

Rumoured to be the world's most expensive pushchair, there are currently just four of Maclaren's latest model available in the UK, and only 20 world-wide.
"The price is partly due to with its exclusivity. They are very collectable as a future investment," explained Simon Hathaway, Maclaren's marketing customer.

"It really is a classy buggy with very stylish accessories. I'm sure it will be a huge hit."

Maclaren introduced its first "designer" buggy last year, which proved to be popular with celebrities such as Kate Moss, Heidi Klum and Kate Winslet.

The firm made its name by being the inventor of the first umbrella fold buggy over forty years ago, and is still renowned for its practicality.
The pushchair is on sale as from today in Harrods!
1st February 2007, 16:31