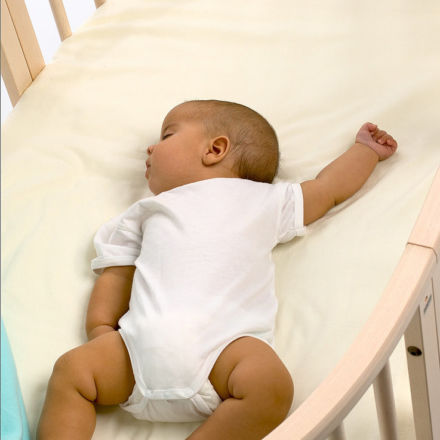 The Foundation for the Study of Infant Deaths, the Department of Health and UNICEF advise that the safest place for a baby to sleep is in a cot by your bed for the first 6 months.
You may sometimes want your baby to share your bed at night as this can make breastfeeding easier. But for your baby's safety, you must follow these guidelines:
Don't share your bed with your baby in the early months if:
she was born prematurely
had a low birth weight
has a temperature.
Don't sleep with your baby in bed with you if you or your partner ever smoke.
Don't share your bed with your baby if you:
have drunk alcohol
have been taking medicine which would make you sleepy
have taken drugs of any kind
you are very tired
are ill
have any condition which may make it difficult to respond to your baby.
Don't sleep with your baby on a sofa, armchair or waterbed.
Put your newborn under sheets and blankets, not under your duvet, so that she doesn't get too hot; don't let her head touch the pillow. Also:
Don't cover your baby's head.
Don't dress her in a sleeping bag if she is under sheets and blankets.
The mattress should be firm, flat and clean.
Make sure your baby can't fall out of bed or get trapped between the bed and the wall.
Don't allow toddlers, children or pets to sleep in bed with the baby.
Your baby must not be left alone in or on the bed as even very young babies can wriggle into dangerous positions.
10th November 2009, 6:36