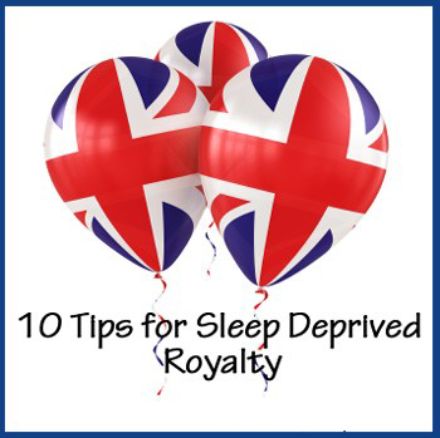 Unless you've been hiding under a rock for the past week, you've likely heard the news: we have a new prince! His Royal Highness, Prince George Alexander Louis of Cambridge, was welcomed by the world on Monday, July 22nd. Parents William and Kate looked thrilled as they presented their new baby to the public a week ago.
Of course, by this time, they're probably both looking more than a little tired as well. As every parent knows, few things are as mind-numbingly, soul-crushingly, "I-could-just-die-I'm-so-tired" exhausting as having a newborn in the house. While the royal couple will likely have quite a bit more help than the average new parent can expect, William and Kate are still in for some bleary-eyed days and sleepless nights in the months ahead. Even royals need 6-8 hours of sleep each night – and the little prince isn't going to let that happen any time soon!
Luckily for William and Kate, we're here to help. We're offering up 10 royalty-themed tips that are sure to help mum, dad, and little George get plenty of sleep during the next few months.
Sleep When The Baby Sleeps. None of us should be surprised if, in the next few months, we see the Duke and Duchess of Cambridge sacked out and drooling in the back of a limo. After all, new parents need to take every opportunity to nap – even if that opportunity happens to be during a royal motorcade.
Don't Be Afraid to Ask For Help. Remember: Charles and Camilla are just a phone call away.
Create a Flexible Schedule. At this point, George's daily schedule will mainly consist of eating and sleeping. But try to work in a few playtime activities each day, like tummy time, snuggling, reading board books, and watching parliamentary debates. You know — the usual.
Swaddle George When He's Fussy. Just be sure to leave his right hand free. A prince has gotta practice his royal wave, after all!
Try Wearing George Around the House. Baby-wearing is another sure-fire way to calm George when he cries. Now, as far as we know, Alexander McQueen hasn't yet introduced a line of baby slings. But then again, Kate, you would probably rock an Ergobaby.
Develop a Bedtime Routine. Create a routine that helps George relax and settle in for bed. A bath, a few bedtime books, and a round of "God Save The Queen" should do the trick.
Take Turns Doing the Night Shift. Note to William: nothing is sexier than a future monarch who changes diapers at 2 a.m.
Avoid Overstimulation. An overstimulated baby is a fussy baby, and a fussy baby is a sleepless baby. So, when possible, ask the noisy crowds of adoring fans to keep it down, and request that the paparazzi ease up on the pictures a little.
Make Time For Yourselves. It'll be easy to get lost in the demands of caring for little George. So be sure to make time for yourselves every once in awhile, to indulge in the kinds of grown-up activities that everyone enjoys: a trip to the gym, a visit to the spa, a spot of tea with Her Majesty the Queen, etc.
Remember: We're all rooting for you. This fact may not make your nights any easier, but it's true: the whole world is celebrating this birth and cheering you on! May you both be blessed in your new role as parents, and may little George be sleeping though the night soon!

Best wishes!
The Team at Baby Mattresses Online
30th July 2013, 17:40