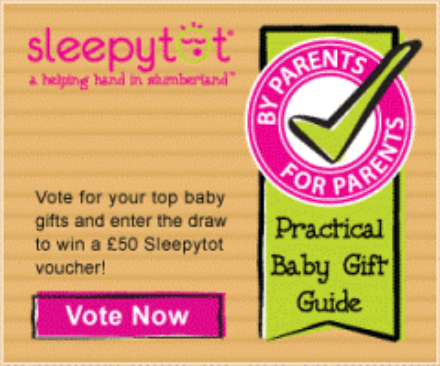 Looking back on all the baby stuff you bought or had given to you from friends and family, how much of it did you actually use?
Since the day your little bundle arrived, you've probably been on the steepest learning curve of your life. There's no other role which forces us to learn so much, so quickly, while working on the job 24 hours a day!
With this comes the stuff you buy to actually solve a problem, to make your life easier, and to make your baby happy. It seems that we all come to the end of the first year with three baby products that we rave about.
It might be a fantastic toy, a baby sleep product, something for bath time, a baby guide book, or a feeding product. Anything that made your life easier.
Whatever it was, Sleepytot want to know about it. Why? Because they're compiling the first ever Practical Baby Gift Guide. This ultimate guide will be totally free and available to all parents and parents-to- be, their friends and their families.
In return for your feedback, your email address will be entered into a prize draw to win £50 of Sleepytot vouchers.
Head over to Sleepytot http://www.sleepytot.com/community.phtml to vote today! Voting ends 31st. March 2010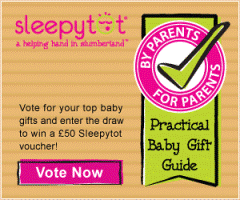 23rd February 2010, 20:27