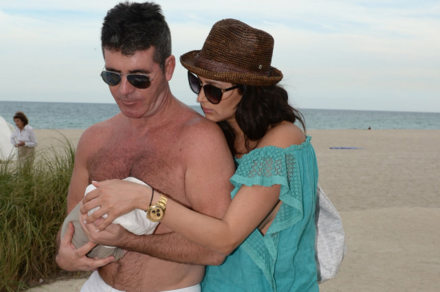 Silver Cross buggy dubbed 'most exclusive pram in the world' with only 800 made.
Simon Cowell has bought his five-week-old son Eric a £2,000 Aston Martin pram.

The X Factor boss and Eric's mum Lauren Silverman bought the buggy - dubbed "the most exclusive pram in the world" - on a trip to Harrods last weekend.

It comes with alloy wheels modelled on Aston Martin's £1.2million One-77 coupe and ultra-comfortable air-ride suspension.





Made in partnership with UK firm Silver Cross, which made buggies for Prince Charles and Prince William, it also features a leather-trimmed push bar and is lined with Italian suede.

Just 800 models have been made and are branded with the James Bond car-maker's logo.

Harrods describes it as 'the world's most outstanding contemporary baby travel system', and says it 'cocoons and protects like no other'.

A source close to the X Factor boss told The Sun newspaper: "Simon is used to enjoying ultimate luxury wherever he goes and of course he wants the same for his son. It really is a case of like father, like son."

Simon recently revealed he is enjoying bonding with Eric but has not yet changed a nappy.

He said: "I haven't gone near one yet. My house is chaotic but it's great fun."Just remember that we make baby mattresses to fit any model of Silver Cross pram, in fact any model of pram.
For more information or any advice, just contact us.
T: 01254 777603
E: info@babymattressesonline.co.uk
W: www.babymattressesonline.co.uk
(Photo Getty Images)
17th March 2014, 18:18