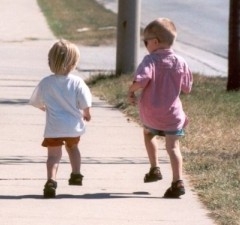 A debate has been sparked following the news that children as young as two years old are being encouraged to work out at a toddlers' gym, containing similar equipment to average adult gyms.
The equipment includes treadmills, rowing machines and exercise bikes and the idea behind them is to get kids into exercising regularly as young as possible.
Although the scheme seems popular with the children, there are concerns that the machines, which often come equipped with calorie burner estimates and timers, may lead children to become obsessed with their weight, resulting in eating disorders later in life.
Speaking to the Daily Telegraph, Gymkids, the company behind the equipment, said it wanted to encourage children to exercise, especially in areas where there was no outside space available.
Stephen Smith, Gymkids' director, said the machines aided cardiovascular fitness and none was designed to build muscle.
He said: "It's not about encouraging children to grow up too quickly but there has been a lot about how children are becoming obese and this is a great way of introducing them to exercise."
However, critics accuse the project of forcing kids to grow up too quickly and promoting obsessions about appearance.
Steve Bloomfield, of the Eating Disorders Association, said: "What's the message that you're giving to a child with this equipment? It's unlikely to be based around self-esteem or feeling good as you are."