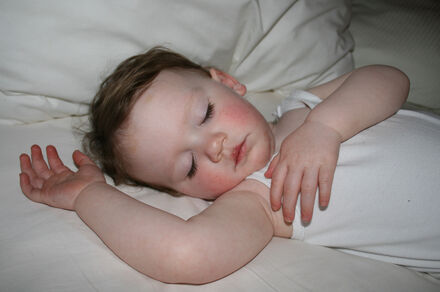 When you start thinking about where your baby is going to sleep at night or decorating your child's bedroom, you might find it useful to keep these safety tips in mind.
All cots currently sold in the UK should conform to BSEN716. This means that the cot is deep enough to be safe for your baby, that the bars are the correct distance apart, and that the cot does not have cut-outs or steps. If your cot is second-hand or borrowed, make sure the distance between each bar is no less than 2.5cm (1in) and no more than 5cm (2in). Even a can of Coke should not be able to fit between the slats. This is to prevent your baby's head from slipping between the bars.



If your cot is second-hand and painted, strip and re-paint it with lead-free paint. If your child breathes in lead dust, lead fumes or swallows anything with lead in it, he can get lead poisoning, which can cause learning disabilities and other neurological problems.



Once your child can push up on his hands and knees, you'll have to remove that adorable mobile and any toys that hang across the cot. When he can pull up, put the mattress in its lowest position so that he can't climb out.



Check the cot to be sure that the mattress fits snugly. There should be no corner-post extensions and no decorative cut outs in the headboard or foot board which could trap your baby's limbs.



Avoid curtains and blinds with cords, as dangling cords carry a risk of strangulation. If you already have them, make sure that you tie them up out of your baby's reach.



Secure wardrobes and bookshelves to walls to prevent them from falling over on your child. For the same reason, always remember to close drawers.



Stay with your baby when he is on the changing table. You may choose to put your changing mat on the floor so that there is no danger of him falling.



Choose flame-retardant sleepwear and make sure pyjama feet aren't too long or socks too slippery if your baby is pulling up or starting to walk.



Position the cot away from direct sunshine, windows, heaters, lamps, wall decorations and any furniture which could be used to climb out of the cot.



Put your baby to sleep on his back, with his feet at the bottom of his crib or cot, to decrease the risk of cot death (SIDS)



When the cot mattress is at its lowest height and the top rail is below your child's chest, it's time to move him to a bed.



Don't put a pillow in the cot. For safe sleeping, your baby needs a surface that is firm and flat.



When you're not in the room with your baby, keep the drop side of his cot up and locked.



Keep toiletries such as baby lotion and wipes out of your baby's reach.
21st May 2012, 16:41