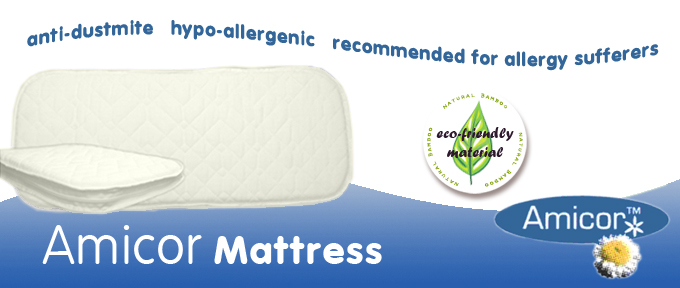 Amicor is a gentle & effective, scientifically designed to provide a fresher sleeping environment for people with or without house dust allergies.
The Amicor fabric prevents the growth of fungi, which prevents skin flakes from becoming a nutritious form for dust mites to feed on. Without a food source the mites cannot live & breed in the mattress.
The effects of the Amicor fabric are designed to be long lasting, they should last around the same time of the product itself.
Babies at 6 months old are particularly vunerable to dust mite allergens, as this is the time inbetween which your babies inherited immune system weakens as their own immune system begins to develop. Doctors consider this period a time where babies may become sensitised to house dust allergens and dust mites.
1 in 5 children (in the UK) are now diagnosed with asthma or allergic rhinitis. The causes of this are becoming more complex and there is no single cause.

The house dust mite is thought to affect 80% of sufferers so is still considered to be the major cause of indoor allergies. Pets and smoking make the situation worse. After six months, the average child's bed will harbour a colony of mites producing an amount of air bourne allergens that is way above World Health Organisation recommendations. Amicor Pure provides a healthier sleeping environment that takes away this risk by preventing allergens and provides peace of mind at night time. Source - www.amicorpure.co.uk
So if it's fresh, hypo-allergenic & safe sleeping environment you are after, then look no further. Can't see what you want? Just ask! info@babymattressesonline.co.uk