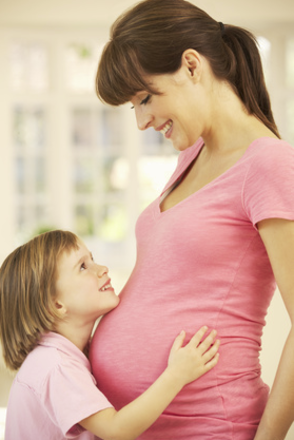 As we wait to hear the wonderful news of the arrival of the new royal baby, I am sure there are many of you expecting your second baby, who are feeling slightly anxious about how you are going to cope. After all, the days are busy enough with one child!
Before your baby arrives you can start to prepare your older child for this new little person arriving into their world. Depending on the age gap, it is important to keep your older child informed by talking and answering any questions appropriately. 40 weeks is a long time to wait, so choose a time much nearer your due date to announce the news. You will be amazed how oblivious your child will be to your growing tummy!
Let your older child help to prepare the baby's nursery by setting some toys out or putting clothes in the drawers. Don't worry if they end up in rather a mess, you can tidy them up later.
Alongside getting ready for the baby, you need to start to encourage your older child to be more independent. Again this depends on their age.
If your older child is ready to move into a big bed make the transition before the baby arrives so it doesn't look like the baby is taking over their cot.
Remember to buy a new mattress for the cot. Baby Mattresses Online can provide any shape, size or type. Safer sleep means happy mummy and happy baby.
Teach your child to eat meals independently. Bottles should have gone by now but if not, now is the time.
Potty training. Aargh, I hear you all groan! It is so much easier to do this before your baby arrives and it really isn't that bad, honestly.
If you have two little people in nappies though, buy another change mat to make life easier. Baby Mattresses Online have some fun royal themed ones to choose from.
Teach your child to go up and down the stairs safely, how to get dressed on their own and let them climb into their car seat.
Ask them to do little errands. Children love to help. When the baby arrives they will be even more keen to help you.
Do remember to tell your child when you are going into hospital and that when you come home again you will be bringing their new sibling too!
Not only will these things make your life easier when your baby arrives but they will give your older child a feeling of confidence, independence and trust.
After the initial few weeks when everyone is adjusting to the new family member, you will find that your baby will slot into the family routine and life will carry on. Yes, it will be challenging at times but you will go out and about again, you will meet friends for coffee and you will have enough love for both your children. It is a magical time that passes very quickly. Before you know it, they will be off to school and you will be sat at home shedding a tear over your coffee, missing them!
Gillian Stewart, Little Routines.
24th April 2015, 11:35