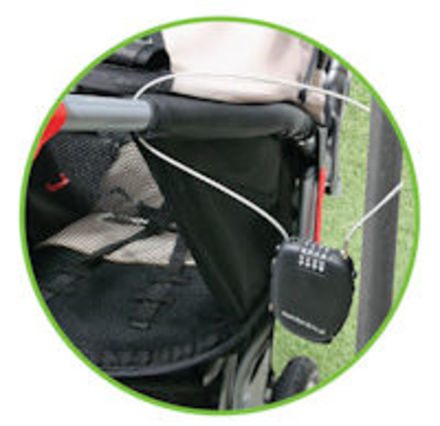 We thought we should tell you about this great product we found - the Koo-Di Retractable Stroller Lock
Imagine buying a new Bugaboo pushchair & mattress, going to clinic & your pram gets nicked!
Just as you wouldn't leave your car unlocked and unattended, nor should parents do so with a pushchair and Koo-di recommends the use of its new Retractable Stroller Lock when out and about; and even at home if it is visible in porches or driveways.

A shiny new pushchair is probably the single biggest investment made by new parents, who will no doubt be concerned to learn that it is also at the greatest risk of being stolen. In fact, buggy thefts are worth more than £60 million a year and have doubled in just a year according to a BBC News article in November 2010.

Unlike other pushchair locks on the market, which use a clamp design requiring the pushchair to be within 12-15 cm of the object parents want to secure it to, the Koo-di Retractable Stroller Lock has a generous 90 cm strong steel cable with a combination lock which can be set and reset at any time by the owner.

Conveniently, the Koo-di Retractable Stroller Lock can be attached to a key ring – along with a car keys – ready to protect a pushchair, or even secure handbags and shopping bags, from opportunist thieves.

15th July 2011, 14:09