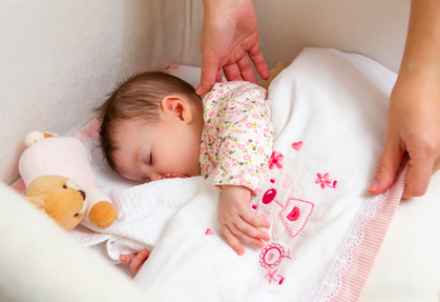 The need to create safe sleeping environments for babies was tragically highlighted by the death of an infant in Australia in June 2011. Findings from a Coroner's investigation have recently been publicly released and include a warning on "introducing items to portable cots such as extra or ill-fitting baby mattresses or padding", practices which can increase the risk of SIDS (Sudden Infant Death Syndrome).
The baby, who permanently slept in a portable cot, was found to be not breathing and attempts at revival were sadly unsuccessful. To make the portable cot comfortable for permanent use, thick blankets had been placed on the base and a piece of foam on top, creating gaps that had been filled with rolled-up blankets.
This type of extra padding is agreed to be dangerous by all professionals though opinion is divided on whether a portable cot should be used on a permanent basis. While agreeing that a standard cot is preferable, Kidsafe Victoria believes that portable cots can be used safely though the ACCC (Australian Competition & Consumer Commission) disagree, stating in a letter to Coroner Caitlin English that,"because these cots are foldable and transportable, they are subject to more wear and tear and are generally less robust than permanent sleeping enclosures such as household cots". The Coroner insisted that "health professionals must continue to provide education" on creating safe sleeping environments for babies to reduce the incidence of SIDS.
A quality baby mattress is the foundation of every cot, whether it is portable or fixed. The mattress should fit perfectly, leaving no gaps that need any extra padding or bumpers. Choosing a custom baby mattress is the best way to ensure the perfect fit, every time.
Baby Mattress Online are expert providers of bespoke baby mattresses designed to unique specifications. Any size, shape and style can be easily created, offering unmatched quality, peace-of-mind and security at a fair, realistic price.
6th February 2015, 7:08