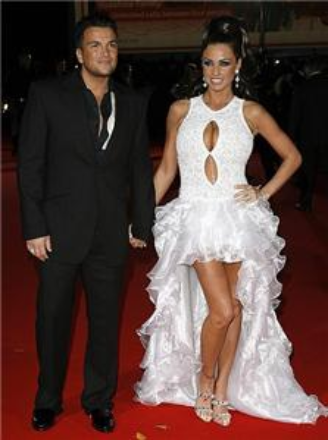 Glamour model and TV presenter Katie Price and her singer husband Peter Andre are said to be hoping to have another baby - which they want to arrive in Christmas 2008.

The couple already have two children together - two-year-old son Junior and six-month old daughter Princess Tiamii, while Jordan also has five-year-old son Harvey from a previous relationship with footballer Dwight Yorke.

But the couple have expressed their desire to expand their brood even further, with Jordan saying she hopes to give birth at the end of 2008.
"I don't want to get pregnant again right away but I would like to be pregnant by the end of the next year," she said.

"I've actually been feeling broody since right after I had Princess Tiamii, but I need a break from being pregnant, so not yet."

It seems Peter is also keen to see the family grow but is hoping to do so sooner than his wife.

He said: "It would be good to see in the New Year in with a bang. Hopefully by getting my wife pregnant."
25th December 2007, 16:57