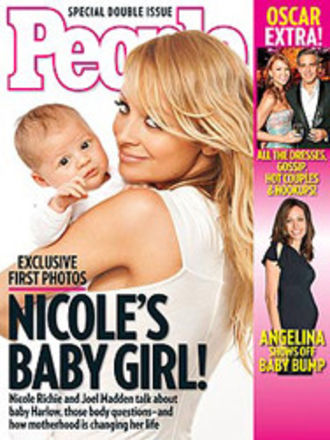 Nicole Richie has followed in Christina Aguilera's footsteps and introduced the world to her baby daughter Harlow - on the cover of People magazine.
Richie and Joel Madden's first child, Harlow Winter Kate Madden, was born on the same day as Aguilera's son Max - January 12th - at Cedars-Sinai Medical Centre in Los Angeles.
"It's almost like I don't even remember what life was like before her. She gives life a whole new meaning and a whole new purpose" Richie tells People of her 6-week-old.
It has been reported Jennifer Lopez and her husband, Marc Anthony, have also sold the rights for the first photos of their newborn twins to People magazine.
However the practice of magazines paying big bucks for exclusive photos of celebrities' children may be cooling.
The Aguilera cover of People, for which the singer was reportedly paid close to $2 million for, sold only 1.3 million copies. The average weekly sales for People is 1.4 million.
It is unknown how much People paid for the photos of Richie and Harlow, which appear in this week's issue.
See our Featured Products
29th February 2008, 10:08