New Car Seat Law from 18th September 2006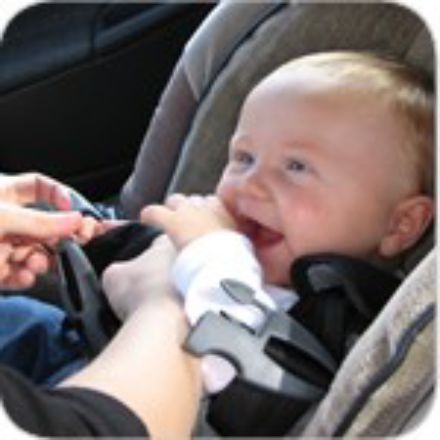 From 18 September 2006, babies and children up to 12 must have the right car seat or booster seat to keep them safe. Read on to find out…
Until just a couple of decades ago it was quite acceptable for children to tumble around freely in the back seat of the family car, and for babies to be restrained by nothing more than a pair of loving arms. But in a car crash, this easygoing approach meant children were thrown around like skittles and were likely to be badly hurt, or even killed.
Car seats help save babies' and children's lives. And now the law is being tightened up to make accidents even less likely. 'We estimate that these changes could prevent over 2,000 child deaths or injuries each year,' says Stephen Ladyman, road safety minister.
In a nutshell, the new law says that:
Babies and children up to three years must not travel in a car or van without being strapped into a car seat.

Children aged four to 12 must be in a booster seat or on a booster cushion, depending on their height

Children over 12, like adults, must use an adult seat belt.
Why a new law?
The previous laws regarding car seats date back to when cars didn't have rear seat belts, which weren't compulsory until the early 1990s. Now all new cars have them and many also come with ISOFix (see below), which makes fitting car seats even easier.
Why can't bigger children just use an adult seat belt?
Adult seat belts help save adult lives but are not designed to protect children. 'Children [up to 150cm tall] need the protection that baby seats and child seats are designed to provide,' says Stephen Ladyman. 'Seat belts are designed for adults. Children who have grown out of child seats still need to use booster seats.' The Department for Transport's guidelines to the new law state that: 'Children are not small adults. They are proportioned differently. Their tissues have different strengths and weaknesses and their needs change as they grow. Therefore, they need a child restraint system to cope with the different stages of their development. '
So what does the new law say?
The main points of the new law are:
For babies, and children up to three years
A baby or child in this age range must not travel in any car or van without the correct child seat for their size/age.
A rear facing child seat is safest for infants up to 13kg.

The child seat can be fixed onto the front* or back seat (*you must not place a baby in a rear-facing car seat onto a front seat with an active airbag).
For children from three to 12 years, or when they are 135cm tall, whichever they reach first:
The correct child seat or booster must be used on either the front or back seat

A child in this age range may use an adult belt only if the correct child seat is not available:

in a licensed taxi/private hire vehicle.

for a short distance or in an emergency.

where two occupied child or booster seats prevent fitting a third such as in small cars where there are only two adult seat belts in the back. A child aged three and over may travel unrestrained on the back seat of a vehicle only if seat belts are not available.
The Department for Transport says: 'The best type of child restraint for early childhood is the child safety seat. The integral harness secures the child and spreads the crash forces over a wide area. This seat will last them until either their weight exceeds 18kg or they grow too tall for the height of the adjustable harness.
'Booster seats are best used only when a child has outgrown a safety seat and are designed for children weighing from 15kg to 25kg. These raise the seating position of the child so that the adult seat belt lies properly across the chest and in particular, low across the pelvis. If the adult belt is too high across the stomach, then in a crash serious internal injury could result, or the child could slip under the seat belt. '
Children over 12 years, or more than 135cm tall. An adult seat belt must be worn in the front seat, and the back seat, if available.
How do I buy the right car seat?
Choose the correct size seat for your child (see types of car seat, below) from a store that lets you try the seat in your car to see if it fits correctly. You can then buy online if you prefer. Never buy a second hand car seat as you won't know whether it has been in an accident.
There are dozens of different styles of car seat but they must conform to the United Nations Regulation R44.03, which means they have passed a series of stringent safety and performance tests. Once you're satisfied a car seat is safe and fits in your car, it's down to personal preference, but some things to look out for are:
How quick and easy is it to fit? Some car seats come with fixed bases attached with the adult seat belt so you just need to click the seat on and off the base.

If you want to get your baby from car to buggy without disturbing them, consider an infant car seat that's compatible with a travel system. Bear in mind that health professionals recommend that babies should not spend long periods in a car seat, as they cannot lie flat in them – the best position for a baby.

Does it have an adjustable seat position? Some infant car seats now come with a flatter base, which is better for a newborn baby's developing spine and organs.

Is the carrying handle comfortable to hold? Carrying a baby in a car seat can be heavy going.

Does it have an easily removable, washable seat cover?

Does it have a hood to shield your baby from glare?
Types of car seat
Group 0 and Group 0+ – these are baby seats, rear-facing and for children up to 10kg and up to 13kg respectively (birth to about nine to12 months)
Group 1 Child seats:
forward facing and for children 9kg to 18kg (about nine months to 4 years)
Group 2 Booster seats:
for children from 15kg to 25 kg (about four to six years), or 15kg up to 36kg)
Group 3 Booster cushions:
for children from 22kg and up to 36kg (from about six years)
What's ISOFix?
ISOFix (International Standards Organisation FIX) is a new system of attaching a car seat to the seat of a car without needing to use an adult seat belt. It's part of the structure of the car and helps you to install your car seat correctly – no more fiddling around with seat belts or wondering why the car seat is still wobbly. Some new cars have them already and most cars will have them within the next 10 years. Some infant and child seats already come ISOFix compatible.
What if I break the law?
It's the driver's legal responsibility to ensure that a child aged up to 14 is correctly restrained. If not, you'll get a £30 fixed penalty notice, and if the case goes to court, the maximum fine is £500. More importantly, if you have an accident, your baby or child could be badly hurt or even killed.