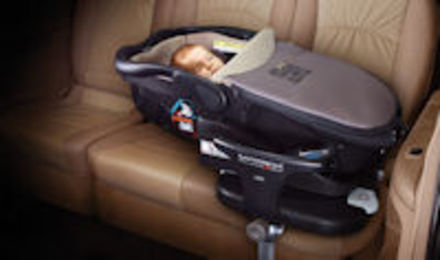 Industry experts and health officials have issued a warning to parents about the danger of letting their baby sleep in an upright infant car seat for long periods.

They say that using upright infant car seats for lengthy journeys, or as a replacement for a carrycot, can restrict a child's airways, resulting in a growing number of what is known as 'car seat cot deaths'.

But David McCullough, Director of Johnston Prams and Buggies, the UK and Ireland distributor of Jané says that if parents are careful about the equipment they buy, their baby will be safe from this risk.

He said: "With a growing number of health warnings over the misuse of upright infant car seats and an increase in tragedies related to respiratory issues, it is vital that parents are aware of any dangers and make the right choices when buying car seats. Jané's innovative Matrix Light and Platform, a lie-flat system, has just been shortlisted for a Mother and Baby 2012 award because it is one of the safest and best on the market and I would recommend it for at least the first few months of a baby's life."

He added: "Consumer magazine Which? recently reported* the death of a four-month-old child from Derbyshire who died of natural causes after sleeping in its infant car seat indoors for an extended period of time. The parents said that the baby regularly slept in an infant car seat, sometimes overnight, as the child wouldn't settle in its carrycot. Although there was no direct link found between sleeping in the child car seat and the child's death, medical studies show oxygen saturation levels decline after a child spends 60 minutes in a car seat."


Studies published on the medical website Pediatrics* state that keeping a new-born baby in an upright position for long periods of time lowers the amount of oxygen in its blood. A new-born baby's reflex to keep its head held up is not fully developed, meaning the head flops down and restricts the airway. Doctors say that this is good enough reason not to use an infant car seat for anything other than travel.

A travel system such as the award-winning Jané Matrix Light, which can be used as a lie-flat or sitting up infant car seat in the car, helps new-born respiration, nurtures the abdomen and aids spinal development. Along with the latest Mother and Baby nomination, the system has already won a raft of prestigious industry awards. Its patented Isofix system, which is a world first, means that it is extremely safe and parents can lock and unlock it with just one movement. It's the healthiest way for a baby to travel - especially on long journeys. Baby Mattresses Online sell pram and carrycot mattresses in any size or shape at all to fit any make or model of carrycot.

Which? Magazine's car seat expert Victoria Pearson says: "Child car seats should not be used for extended periods of time or as a replacement for a cot bed."

However, a suitable carrycot such as Jané's Transporter is a safe way of transporting baby. Which? Magazine has given this carrycot a Which? 'best-buy' and it was also a winner of the 2011 Eurotest, making it one of the safest carrycots in the world. The Transporter can be used as a lie-flat car seat in the car with no time limits and is no threat to a baby's respiratory system.

David explained: "Whether using a lie-flat car seat or a carrycot parents need to be aware of the safety issues. At Jané we are delighted with the plethora of awards we have received over the past number of years recognising the style and practicality of Jané products along with the outstanding reputation for safety testing.

"All parents want their child to have the best start in life and health and safety is the top of everyone's list. It's reassuring to know that Jané is committed to producing robust, stylish products that are simply the most innovative, safest and best value for money."

For more information on Jane prams visit www.johnstonprams.co.uk
For any advice on carrycot mattresses contact us.
T: 01254 777603
E: info@babymattressesonline.co.uk
W: www.babymattressesonline.co.uk
19th October 2012, 11:19