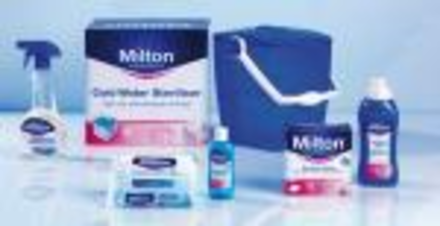 New Milton Antibacterial Fabric Solution is clinically proven to kill harmful germs (including bacteria and fungi) which can survive on fabrics even after a 45° wash cycle, causing bad odours and infections..
The unique formulation leaves laundry disinfected, safe and fresh smelling, and is ideal for cleaning baby clothes, bedding and real cloth nappies and our baby mattresses. Used alongside ordinary washing powder, the bleach-free formula is safe to use with all fabric types, even silk and wool, and is even effective on a cold wash or when hand washing, helping eco conscious parents wash at lower temperatures, without compromising on germ kill.
The new product is launched alongside a re-brand including new packaging designs across the sterilising and hygiene range, and a new logo to modernise and create a warm friendly brand that parent's trust.
The Antibacterial Fabric Solution costs £5.49 for 1 litre (approximately for 50 washes). The specially designed pack decants a pre-measured dose in an easy-to-pour format. It will be available alongside the full Milton range, which consists of Sterilising Fluid, Sterilising Tablets, Antibacterial Surface Wipes, Antibacterial Surface Spray and Antibacterial Hand Gel.

REQUEST a CALLBACK for any mattress advice
or
TELESALES / ADVICE call us 01254 777603
11th February 2009, 12:01