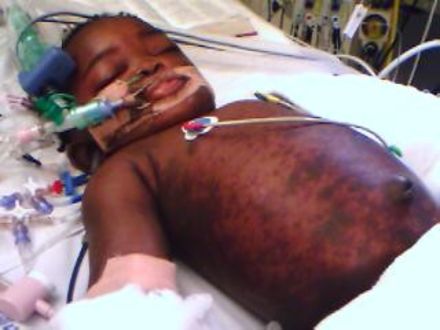 Toddler Harvey Parry lost both legs to meningitis and now his family may have to find thousands of pounds for prosthetic limbs
The family of 22-month-old Harvey Parry is fighting to raise funds for private prosthetic limbs for their son - at a cost of at least £30k a year.
Parents Carol and Jonathan protest the limbs offered to their by the NHS are uncomfortable and unattractive. The prosthetic legs they want for Harvey are less clumsy and the right skin colour but there is no available funding from their local Primary Care Trust so the couple have begun their own appeal for suitable new legs for their son.
Fight for life
Harvey was struck by meningitis aged one; just one week after the toddler walked for the first time. The toddler's parents were told their son had little chance of survival unless he had both his legs and three and a half of his right hand fingers amputated. The loss of his limbs has caused left harvey with extensive damage and scarring to his whole body and his left hand is partially paralyzed.
Harvey's appeal
Parents Carol and Jonathan are determined to fund suitable new legs for their son and have started an appeal. Click on the link below for more information.
Harvey Parry appeal
What to look for

Babies and Toddlers

Fever, cold feet and hands
Refusing food
Vomiting
Pale blotchy skin
Floppy, lifeless, unresponsive
Drowsy, difficult to wake
Spots/ rash
Rapid breathing or grunting
Fretful, dislikes being handing
Unusual cry or moaning

Children and Adults

Fever, cold feet and hands
Vomiting
Drowsy, difficult to wake
Confusion, irritability
Severe muscle pain
Stomach cramps and diarrhoea
Spots/ rash
Severe headache
Stiff neck
Dislike of bright lights

For further information go to www.meningitus-trust.org.
7th August 2007, 19:22