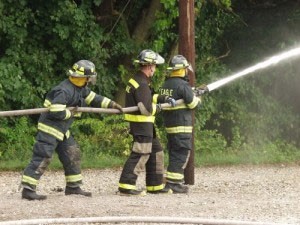 Harvey Newman visited his local fire station in Norwich to thank the men who saved his life. The two-year-old toddler was rescued by the firefighters after he got his head stuck between bars in his cot but, the situation became much worse when Harvey stopped breathing and suffered a suspected cardiac arrest.
The firefighters ripped apart the cot constricting the tot's airways and immediately began emergency resuscitation. Fortunately, he was revived before paramedics took him to hospital to stabilise him.
Just a week after the traumatic experience, Harvey had fully recovered and he went with his mum, Amy, to go and thank the men who saved his life.
Amy, 20, told the Norwich Evening News: "We just want to say a big thank you to everybody who helped save him. It really was terrifying. Harvey stopped breathing but the fire brigade was there first and managed to get him breathing again."
"He has made a fantastic recovery. We had expected the worst," she added.
Firefighter Tim Squires, who resuscitated Harvey with the help of colleague Richard Clements, said: "It is great to see Harvey looking so well because when we had got him out of the cot and he was lying on the floor he was blue."
"He did not look good at all and was not breathing. When he gave a little cough, it was such a relief and a fantastic feeling."
The firefighters concerned have since been nominated for a Chief Fire Officer's Letter of Commendation.
31st October 2006, 14:16