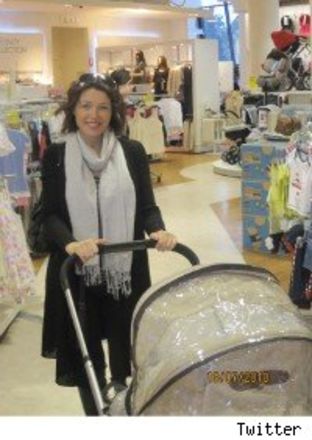 Hitting the shops with her partner Kris Smith, the new parents flexed their spending skills in a Melbourne branch of Mothercare so their 13-day-old baby could look trendy for his ultra-stylish Aunt Kylie.

Kylie, who has recently spoke of her own dreams of becoming a mother, finally got to meet her new nephew this morning at 5am.
If Dannii's busy travelling she may need a travel cot mattress for baby Ethan...........

The pint-sized popstar tweeted about her new nephew: 'Yes...yes.....YYYYEEESSS Baby Ethan is adorable, perfect and scrumptious!!! @KrisSmith13 and @Danniminogue.'

Proud father Smith, 32, posted an adorable photo of baby Ethan sleeping peacefully in his pram, as well as another image of a happy Dannii with his pram in Mothercare.

The Minogue family are big Twitter fans, and have all spent some time updating the


social networking site. New dad Kris tweeted 'First day out for the whole family, Dannii running up a storm in Mothercare.

'Sleeping peacefully, Ethan was amazing as always today... Such a good boy just like his dad ;-).'

When one of her twitter followers inquired whether all of the Mothercare stock had been bought by the couple, Dannii, 38, replied: 'We both went nuts.'

Little Ethan is now the proud owner of a pair of baby Uggs, joining the fashion ranks of many other celeb babies.

Kylie, 42, tweeted as soon as she arrived back in her home country 'Whooooppp...I am H*O*M*E in Australia!!!!!!! :)'

The proud auntie was busy promoting her number one album Aphrodite when Dannii went into labour, but she tweeted her congratulations to the new parents 'Congratulations to my little sister, Dannii and Kris on their beautiful baby boy, Ethan. He is gorgeous.'

It's not the first time Kylie has celebrated being an aunt. She's also aunt to her brother's sons Charles and James.
No doubt Danni have a ball shopping for Ethan if she goes to L.A. & visits Petit Tresor - the world famous million dollar baby store, where amongst other things they have a fabulous range of natural baby mattresses. almost as good as ours............
19th July 2010, 14:32