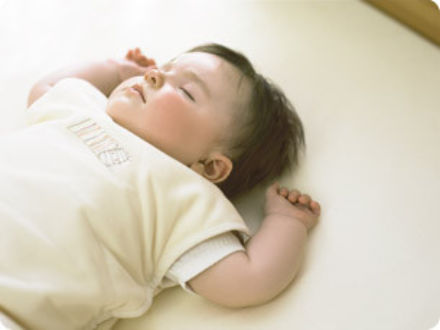 Newborns need to sleep and feed frequently during the first few weeks. Find out what you can expect and how to lay the foundations for good sleeping and feeding routines.
You may like to take a look at our Sleep Suits

What to expect in the early days
Your newborn will sleep from 16 to 18 hours a day in the first few weeks. It sounds like a lot, but they will wake frequently for feeds, day and night, and rarely sleep for more than three to four hours at a time.
As your baby grows and their tummy gets bigger they will be able to take more milk, meaning a longer gap between feeds and sleeping for longer stretches. But in the first few weeks it is quite normal for your baby to want to feed for eight to 12 times in 24 hours.
This can be hard going when you are exhausted from the broken nights. Do meet your baby's feeding demands though and remember you will get more sleep as your baby's tummy gets bigger.

Sleeping
Your newborn does not know the difference between day and night to start with and needs time to adjust, but there are ways you can help.
During night feeds:
Keep the lights down low
If you need to talk, keep your voice to a whisper
Put your baby down as soon as you have fed and changed them
Don't change your baby if it is not necessary
Teach your baby sleep cues. By gradually establishing a bedtime routine, such as a bath followed by a feed and a cuddle, your baby learns to tell that it is time for bed.

Establishing good sleep habits
Life will be easier in the long run if you can put good sleep habits into place early on.

Try not to let your baby get used to falling asleep in your arms or at the breast.

Let your baby learn to settle themselves by putting them down in their cot when they are drowsy not asleep.

It does not hurt your baby to get used to sleeping through a certain amount of noise. You do not need to keep the house completely silent when they are asleep.

Parenting books, magazines and websites all offer tips on establishing good sleep habits. Your healthcare professional will also be able to advise you if you have any questions or concerns.

What to expect as time goes on
The broken nights of the first few weeks will not last forever! As your baby grows, they will feed less frequently at night and sleep for longer. By about four months your baby will spend twice as long asleep at night as they do during the day. Which means they, and you, may be getting eight hours sleep a night or more.
Night feeds are no longer necessary now and some babies even manage to sleep for up to 12 hours at a stretch. However, teething pain may wake some babies during the night.
Source: Heinz Baby Club
22nd February 2010, 14:21