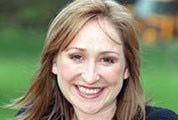 'Emmerdale' actress Charlotte Bellamy has announced that she is pregnant with her second child.
The actress, who plays Laurel Thomas in the show, is due to give birth early next year.
Her on-screen character Laurel is also expecting a baby and is due to give birth before Christmas.
Bellamy said: "I'm really excited about having a little brother or sister for Sunnie. And it's great that Laurel's going to be pregnant on-screen too."
Bellamy and her partner Mungo Denison already have a two-year-old son.
6th November 2006, 13:40