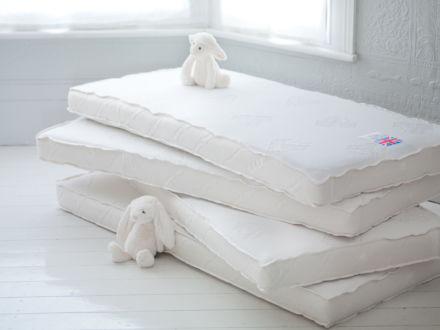 There is no 'best' mattress to recommend but there are certainly many different types, especially when you shop with us at Baby Mattresses Online.
In the end, it all comes down to personal choice and to budget. The most important factor is ordering the correct size of mattress for your cot, cot bed, junior bed or travel cot. There should never at all be a gap of more than 4 cm between the mattress edge and the cot side.
All of our mattresses come with zip off, removable, washable covers.
Two of the main types of mattresses we sell are:
Foam Mattresses
just a simple 25 density, dent-resistant foam block without any nasty chemicals in it.
anti-allergenic & fire resistant
exceptional value for money
Spring Interior Mattresses
steel coil springs covered with a layer of foam
very firm & durable
Top tips about baby mattresses:
always choose a firm mattress
never use a second hand, worn, dirty or damp mattress
turn over the mattress every month
waterproof mattress protectors will protect your mattress, helping to keep it clean & dry.
if asthma or allergies are in the family, it's a good idea to be cautious & use an anti allergy mattress covering such as our XStatic or Amicor versions.
remember: one mattress for each child whenever possible. That's the advice from the Foundation for the Study of Infant Deaths (FSID)
Take tme to read our advice on safe sleeping.
All of our mattresses meet the highest possible standards of performance (BS7177:2008) & safety (BS1877:Part 10:1997).
7th November 2012, 19:18