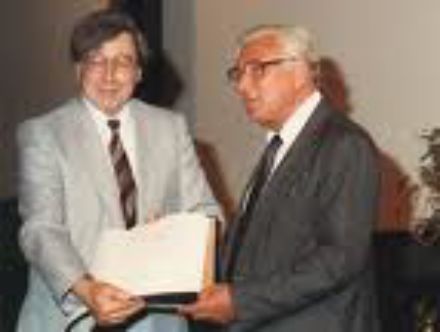 His efforts in the 1950s, 60s and 70s led to the birth of the world's first "test tube baby" Louise Brown in July 1978.

Since then nearly four million babies have been born following IVF.
That even includes our own twin boys Alexander Patrick & Aaron Robert who we named appropriately. We have been there & got the T Shirt with IVF. We had about four attempts at the very start of the pioneering treatment in the very late 70's down at Bourne Hall with Mr.Steptoe & Prof. Edwards themselves - cost us a fortune in overdrafts & bank loans! We later tried Liverpool Women's and after years of trying we had our dream come true in 1994 when it "worked" at Liverpool Women's Hospital on a freebie. So don't ever give up trying any of you .............

The prize committee said that Prof. Edwards' achievements had made it possible to treat infertility, a medical condition affecting 10% of all couples worldwide.
Prof Edwards, now aged 85, began his fundamental research over 50 years ago. He soon realised that fertilisation outside the body could represent a possible treatment of infertility. Other scientists had shown that egg cells from rabbits could be fertilised in test tubes when sperm was added, giving rise to offspring. Prof Edwards went on to refine this technique for humans together with Mr. Patrick Steptoe, who sadly died in 1988.

Their success means that today, the probability of an infertile couple taking home a baby after a cycle of IVF today is one in five, about the same that regular couples have of conceiving naturally.

The duo faced numerous challenges in their quest, including opposition from churches and governments, as well as scepticism from scientific colleagues. They also had trouble raising money for their work, and had to rely on privately donated funds. Even I thought it was a bit "Frankestein" & "playing at God" when I first heard it on the news way back then.
But they went on to develop "a milestone of modern medicine", said the Nobel Assembly at Sweden's Karolinska Institute, which awarded the prize.
Use this code TWINSAVE at our checkout to save 10% discount off any of our mattresses - we certainly know that if you have twins & multiples you certainly need to save some money somewhere! If you join Tamba, you can save loads of money at places such as Clark's shoes.....
May I also take this opportunity to say a huge personal THANKS & congratulations to both Mr. Steptoe & Prof. Edwards. Our lives would never have been the same without you both! In fact our boys wouldn't ever have had a life............
Kathy & Peter - Baby Mattresses Online
4th October 2010, 21:35