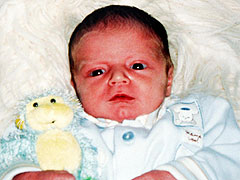 A single mother who falsely claimed raiders tied her up and started a fire in which her four-month-old son died has walked free from court.
Danielle Wails, 22, received three years probation after admitting killing her son.
She told police she was tied up by intruders who set her flat ablaze last year.
Following the fire on August 28th, police launched a manhunt for the two men who she falsely claimed had attacked her in the two-bedroomed terrace house and then tied her up with telephone cord.
She told detectives she had been knocked unconscious and when she awoke, the lounge, where her son was, was alight.
She said she had used her tongue to dial 999 and shouted through the letterbox to neighbours, begging them to try and save Alexander.
Wails, who had split from the baby's father Robert Gallon after a series of rows, was living in accommodation provided by a charity which helps single mothers.
But her story, which included claims that she called 999 using her tongue, unravelled and she was charged with little Alexander Gallon's murder.
On the first day of the trial at Newcastle Crown Court in August, Wails' guilty plea to the lesser charge of infanticide was accepted by the prosecution after two psychiatrists both agreed she was suffering from post-natal depression and that the balance of her mind was disturbed at the time of the tragedy.
On Monday, the court heard that Wails had started the blaze at the rented home in Link Road, in the Cowgate area of Newcastle upon Tyne, to try and win back Mr Gallon after splitting.