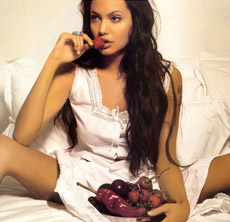 Is it possible that Angelina Jolie is pregnant again? Who knows!? The fact is that the "Tomb Raider "star fainted three times on the set of her new movie in less then three weeks.
The first time Jolie collapsed on set was on October 8th after a rickshaw carrying her, Brad and their five-year-old son Maddox, was mobbed by paparazzi. Soon after the family arrived at their hotel, Jolie collapsed again with no reason.
The third time happened early this week when the actress was shooting an emotional scene in which her character, Marianne Pearl, finds out that her husband, Wall Street Journal reporter Daniel Pearl, has been killed by some terrorists in Pakistan.
Everybody present at the shooting got scared. "She literally collapsed while filming it," an insider revealed. Angelina was immediately transported to her room and received medical attention. Rumors say that all this fainting might indicate a new pregnancy for Jolie.