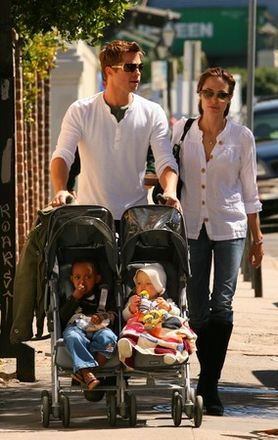 14 March 2007 (Sawf News) - After attending an adoption ceremony in Ho Chi Minh City Thursday (15 Mar 2007) morning, Jolie could bring home her 3 1/2 year old adopted Vietnamese son by this weekend.
Jolie is expected to fly in to Vietnam late Wednesday night, an official told AP on condition of anonymity to circumvent a gag order. Following the adoption ceremony on Thursday Jolie will meet with U.S. consular officials to obtain a passport for the boy.
If matters progress smoothly as expected, Jolie could be back in New Orleans with the new addition to her family with Brad Pitt by this weekend.
Jolie has applied for adoption as a single mother since Vietnamese law frowns on adoptions by unmarried couples. However, both Pitt and Jolie have jointly planned for the adoption.
The Vietnames boy will join 5-year-old Maddox, adopted from Cambodia; 2-year-old Zahara, adopted from Ethiopia; and another daughter, Shiloh, who was born to the couple in May 2006.
15th March 2007, 9:53