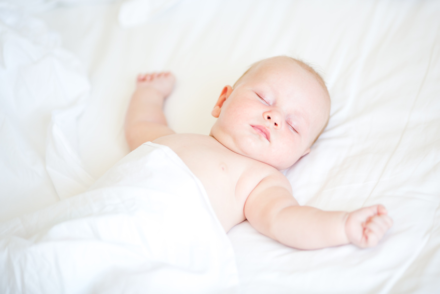 Your baby's nursery is the place they will first begin to form the sleeping habits that will last a lifetime and it is essential that you make the room as safe and conducive to good sleep as possible. Safety is of prime concern and so here we offer you some essential tips to help you get it right.
The Cot
All cots sold currently in the United Kingdom must conform to BS EN 716:2005, which ensures that it is deep enough, has no steps or cut-outs and has its bars the safe, correct distance apart. If your cot is pre-loved, you should ensure the distance between the top of the cot's sides and the mattress top is not less than 50cm and bar distance should be between 2.5cm and 6.5cm to prevent baby's head from becoming wedged between. Vintage cots may require stripping (as the paint may contain lead) and any stickers, transfers or similar should be completely removed as they could pose a choking hazard.
The Cot Mattress
It is recommended that each child should have a new cot mattress that should correctly fit within the cot to ensure no gaps at the sides. Bespoke cot mattresses are best for cots of a particular shape and/or size and there is a wide range of materials to choose from. The mattress should be firm and supportive yet soft and comforting, while one of the many available mattress protectors will ensure it lasts until baby has no more use for it as they are grown up enough to have their own bed.
The Bedding
It's a great idea to use layers, as then you can easily add or remove as necessary to ensure baby's delicate temperature balance is continuously maintained. Pillow and duvets are not recommended as they may make baby too hot or even pose a breathing hazard. Many people have also found that using a baby sleeping bag is the ideal solution for their child.
The Toys
As soon as baby starts to become more agile and can push up or crawl, mobiles or any toys that hang over the cot should be removed as they could allow your child to pull themselves up and out. Make sure that toys are never left in the cot while baby is sleeping.
The Light
Many parents use blackout blinds or curtains to help their child sleep. It is absolutely essential that all blind or curtain cords are kept well out of reach of the cot as they pose a choking hazard. Since February 2014, the law in the UK states that all blinds sold must be cordless or have their cords concealed but make sure any existing issues are rectified or buy new blackout blinds for complete peace of mind.
Start your journey to a safer nursery now with Baby Mattresses Online.
22nd September 2015, 13:31