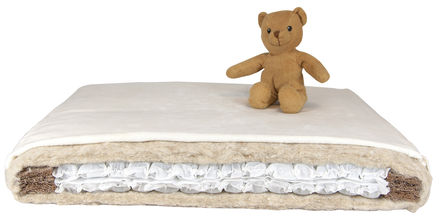 We have reached an exciting milestone! Earlier this month, we were pleased to fulfil the 100,000th order from our website and, to celebrate, have given that lucky customer a full refund. Congratulations to Monica Hughes - your refund is already on its way to you!
Monica had no idea when she placed her order for a bespoke baby mattress that she would be the customer to bring our total to the six-figure mark. As specialists in manufacturing pram & cot mattresses designed to exactly suit each baby's individual sleeping place, we fulfil many such orders each and every day. We checked our order history and, sure enough, there was Monica's receipt with the number 100,000 clearly visible!
The mattress that Monica ordered was requested as a matter of urgency and we were happy to get the finished product to her without delay. Features of the mattress she ordered included:
4cm Mattress Depth - This is the maximum recommended depth and offers supreme comfort to baby

Oval-Ended Shape - A popular choice with other options including square, rounded and diagonally-clipped corners available

Standard Mattress Covering - Designed to protect against everyday spills and stains

Full Ventilation - The foam mattress was supplied vented all over to allow air to circulate freely around baby and prevent them from overheating

PVC Waterproof Sleeve - Supplied free with our compliments

Fitted Sheets - Another popular add-on option, fabricated from pure cotton for comfort and strength

Coir & Wool Inner - A layer of natural, environmentally-friendly coir is sandwiched firmly between pure new wool for comfort, warmth and breathability

Bespoke Size - Monica included a template with her order so that we were able to produce the cot mattress to exact specifications
Monica's order totalled just over £55 including delivery and we are happy to refund this to her for being lucky enough to be our 100,000th satisfied customer. We wish lots of lovely nights sleep for her baby (and her too!) as the new mattress is enjoyed.
Creating the perfect bespoke mattress is simple and can be done in just a few easy steps. Want to find out how - visit our website
20th October 2015, 9:09